We of course did not have the chance to snap photos at the Airport. This is why we are thankful for Grandma's. Enjoy!
Just off the plane.
Hanging out in the airport waiting to meet eveyone.
Jack meets one excited Grandma.
Jack checks out his big brother!
First ever family of five photo.
Kids playing on the floor at the airport. Mom is tired. Luggage is missing.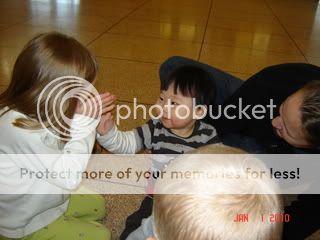 Jack plays peek a boo with sister. Ah coo!
Jack crawls right over to other grandma's lap!
Two excited Grandmas!
Everyone is happy!
Big brother gives Jack a big hug. Jack not so sure yet.