OK I have been neglecting my photo duties. So this is to make up for it. Please keep in mind he has a runny nose and is cutting teeth so the drool and red nose is prevalant in most of the pics. It is getting better though.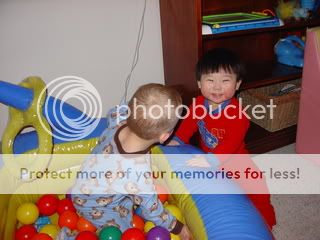 Meeting his twin cousins for the first time. Jack is on the big side and they are a bit on the small side so 6 months doesn't translate into much difference in size!
Checking eachother out.
Bathtime is fun again after watching big brother and big sister play in the tub!
As you can see the crawling tunnel is a hit, so are balls, and cars.